More Information
Pauktuutit Inuit Women of Canada
1 Nicholas Street, Suite 520
Ottawa, ON K1N 7B7
T: 613-238-3977
F: 613-238-1787
Toll Free: 1-800-667-0749
Nadia Noor, Manager, Violence & Abuse Prevention
nnoor@pauktuutit.ca
Ext. 269
Meeting Survivors' Needs: Gender-Based Violence Against Inuit Women and the Criminal Justice System
Gender-based violence—physical and sexual assaults against women—is a serious issue. The criminal justice system has been given a key role in responding to this violence. Pauktuutit is conducting a research project to study the criminal justice response to gender-based violence in Inuit Nunangat in order to increase awareness and understanding of the needs, challenges, and service gaps that face Inuit women.
The primary research question is: How can the criminal justice system be made more responsive to the needs of Inuit women who experience gender-based violence? The goal is to advance effective criminal justice strategies to alleviate gender-based violence and prevent re-victimization, with a focus on the needs and safety of Inuit women.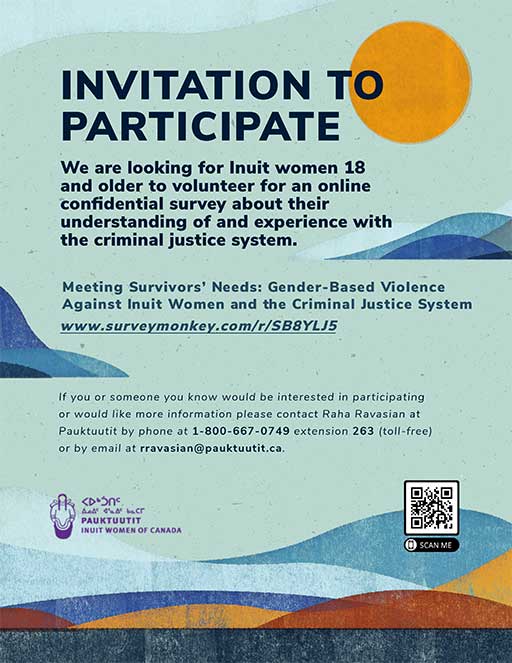 The deadline to complete the survey is September 15, 2021.